Activity
Tracing the World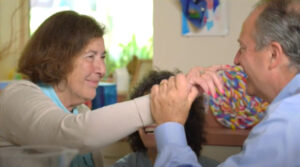 Welcome to "Tracing the World around You."
Introduction
In this lesson, you will learn:
How to use common household objects to create awareness of shapes around us
How to adapt the lesson and use our own body to create a simple dance
Preparation
Collect the following materials ahead of time:
An object that is a circle (e.g. bowls, jars, mugs, plates, candles).
An object that is an interesting shape (e.g. spoons, pliers, toothbrush, desk lamp)
A piece of paper
Pen/pencil
Video
Please take a moment to review Care for the Caregiver before beginning this lesson.
Individual Steps
You may also watch the individual steps for this lesson. Each of the five steps below will guide you and your partner through the special techniques for this lesson. To make sure you get the most out of this lesson make sure to move through each step in the order they are presented. And remember – have fun!
Consciously Breathe
2. Sing and Move
3. Call and Response
4. Create Together
Written Instructions
Print the entire lesson plan for Tracing the World here.
Extension
Sit down and see if you can draw any of the shapes that you traced.
Write down a story of what you did together. "Today, Bill and I traced the tree outside the window. We see it every day, but today, we saw it differently. Today we turned it into a dance. Can you find a shape in your home to see anew? Tell us about it." Send the note to a family member or friend.