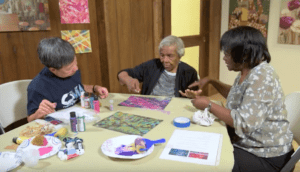 Welcome to "Dream Catcher." This lesson shows how to create a painting using yarn, tape, and acrylic that is guaranteed to look beautiful in a frame.
Introduction
In this lesson, you will learn to:
Guide your care partner in creating a failure-free painting
Learn to narrow the number of choices in order to promote autonomy
Learn to encourage and build your care partner's confidence in their own creativity
Preparation
Please gather these materials before you start:
Watercolor paper or black cardstock paper
Scrap paper (newsprint larger than the watercolor paper)
Yarn
Masking tape
Acrylic paint (all colors and metallic)
Paper plate to serve the paint
Sponge brayer ($1.50 from unitednow.com)
Sea sponge or other household sponge with distinct holes
Glitter
Rags/paper towel
Set aside 30 minutes with your care partner for this session.
Video
Please take a moment to review Care for the Caregiver before beginning this lesson.
Individual Steps
You may also watch the individual steps for this lesson. Each of the five steps below will guide you and your partner through the special techniques for this lesson. To make sure you get the most out of this lesson, make sure to move through each step in the order they are presented. And remember – have fun!
Consciously Breathe
2. Sing & Move
3. Call & Response
4. Create Together
Written Instructions
Print the entire lesson plan for "Dream Catcher" here.