Activity
Morning Rhymes (Rimas Mañeras)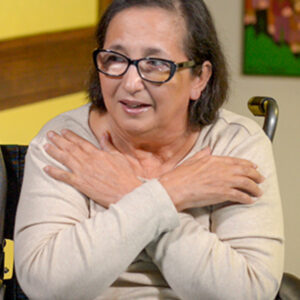 Welcome to Morning Rhymes. This lesson will show you how to be creative using old and familiar songs.
Bienvenido a Rimas Mañaneras. Esta lección le mostrará cómo ser creativo usando canciones antiguas y familiares.
Introduction
In this lesson you will learn to:
Guide your partner through the creation of a new song.
Encourage your partner to create something new based on their own choices.
Introducción
En esta lección aprenderás a:
Guía a tu par a través de la creación de una nueva canción.
Anime a su pareja a crear algo nuevo basado en sus propias elecciones.
Preparation
Have a conversation about where the older adult is from, what music they like and what are some of their favorite things
Look up a song or a poem that the person is familiar with.
Memorize the song or poem and work on making gestures and expressions to bring it to life
Preparación
Tener información (una conversación) sobre el país donde el adulto nació y vivió. Que tipo de música le gusta, y cuales son sus temas favoritos.
Buscar una canción y un poema, que es familiar para el paciente o residente.
Memorizar la canción y el poema ,mostrando gestos,y movimientos con expresiones alegres que ayuden , a pasar un momento entretenido.
Tips for Success
Work on proper breathing. It is crucial that you maintain a proper breathing in order to maintain the song.
Stretching the body is important to allow more air to flow through the body.
Take your time. Take time to really get to know the person and enjoy the things that you learn from their past.
Sugerencias, para tener una reunión exitosa
Respirar profundo, es esencial para poder relajarse.
Ejercicio de estiramiento. Estiramiento es importante para permitir que fluya más aire a través del cuerpo.
Dedicar su tiempo, para conocer mas sobre la persona, y gozar cosas y memorias, qué aprendemos sobre el pasado del residente.
Video (Spanish with English Subtitles)
Please take a moment to review Care for the Caregiver before beginning this lesson.
Individual Steps
You may also watch the individual steps for this lesson. Each of the five steps below will guide you and your partner through the special techniques for this lesson. To make sure you get the most out of this lesson make sure to move through each step in the order they are presented. And remember – have fun!
Consciously Breathe
2. Sing & Move
3. Call & Response
4. Create Together